News
Remedies for back pain that help avoid the surgeon's knife
The study concluded that "the discovery by MRI of bulges or protrusions in people with low back pain may frequently be coincidental". In other words, it is often not the discs that are causing the pain, even though they may look terrible.
When a Big Baby Isn't So Big
"We really urge caution because our tools for identification of a large fetus are so poor," said Dr. Aaron B. Caughey, who helped develop the 2014 guidelines. "We just aren't very good at predicting birth weight — every study in the literature would tell you that."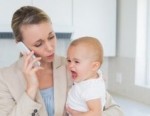 © Copyright 2017 Bivid Pharma.