A presentation for Ketospray and Rasanvisc at Rehabilitation Hospital – Occupational Disease Treatment
On March 17, 2020, Binh Viet Duc Co., Ltd. was honored to participate in the scientific meeting of the Rehabilitation Hospital – Ho Chi Minh City Occupational Disease Treatment.
At this scientific meeting, Binh Viet Duc Co., Ltd. introduced to doctors, staff of Ketospray and Rasanvisc Product Hospital distributed by the Company.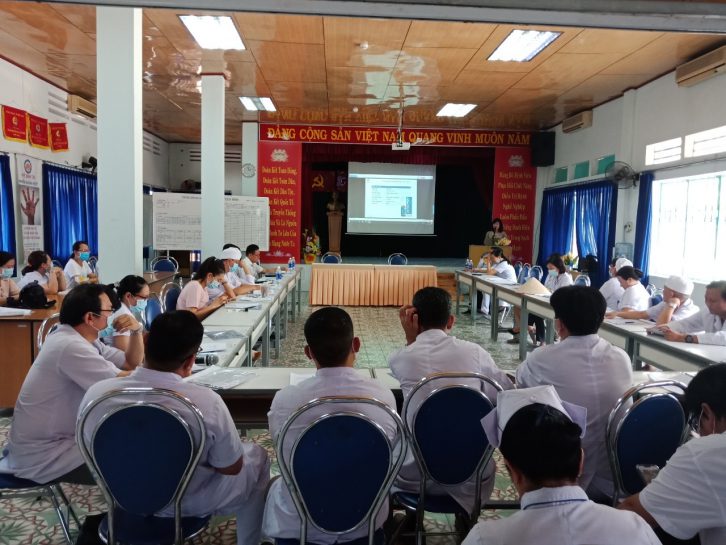 Ketospray products contain active ingredients Ketoprofen content 2500mg / 25ml. Ketoprofen is a non-steroidal anti-inflammatory drug of the propionic group, arylcarboxylic acid derivative. Has anti-inflammatory, anti-pain and antipyretic effect. Inhibits prostaglandine synthesis, inhibits platelet aggregation.
The product is intended for external use to treat pain and swelling caused by closed injuries (such as sports injuries) such as bruises, muscle spasms, sprains, effusion, muscle tension, stiff neck, pain back
With dosage form is the only spray available on the market today, making the product more effective.
The next product introduced by the Company at the Hospital is Rasanvisc with active ingredient 1.0% Sodium Hyaluronate produced from biological fermentation.
Osteoarthritis of the knee is a common disease in people over 50 years old, the incidence is higher in women than in men. Causes besides factors such as age, gender, genetics, lifestyle, injury while playing sports and bad posture in labor and daily activities also accelerate the process of osteoarthritis.
Normally, a knee joint contains about 2ml of synovial fluid. Hyaluronic acid is an important component of synovial fluid and cartilage with a content of 2.5 – 4.0 mg / ml. Endogenous Hyaluronic Acid helps synovial fluid with viscosity and elasticity, lubricating effect, reducing the intensity of concussions, protecting joints to prevent pain when operating, in addition to nourishing joint cartilage . In degenerative joint disease, Hyaluronic Acid deficiency occurs in synovial fluid and cartilage, which increases joint destruction resulting in pain and limiting diseased joints.
Rasanvisc contains sodium salt of Hyaluronic acid with a molecular weight of more than 1,000,000 daltons to help increase viscosity, elasticity of synovial fluid.
Rasanvisc protects joint cartilage cells, reduces pain and improves motor function and improves the quality of life for patients with osteoarthritis.
Through the introduction of two products Ketospray and Rasanvisc, both products received the attention and support from the Doctors at the Rehabilitation Hospital – Occupational Disease Treatment City. HCM.
Other related
© Copyright 2017 BIVID Pharma.