KEDRION Conference Hue 3.2014
KEDRION
www.kedrion.com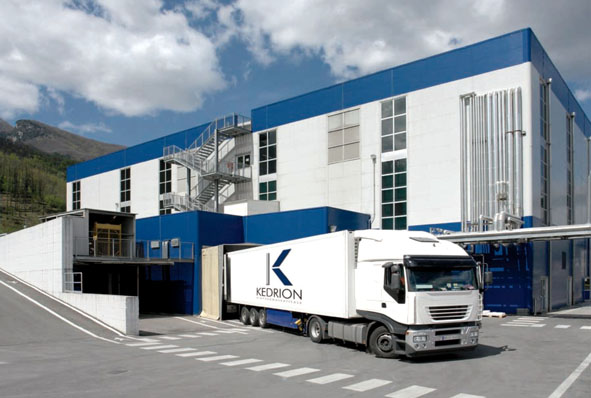 VISION
Everyone has the right to life, liberty and security of person*
Sometimes, natural, accidental or social causes obstruct the natural right to life, liberty and personal security.
Because of the special nature of its products, Kedrion supports people, communities and institutions in reducing or removing those obstacles that prevent people enjoying such rights.
Kedrion helps turn the natural rights (life, liberty, security) into the social right to live in the best possible conditions. For this reason, it collects and converts, makes active and usable that vital energy that is generated and regenerated, preserved and carried through blood; so that it can be transferred from one human being to the next, and anyone can enjoy one's fundamental rights.
* Universal Declaration of Human Rights, art. 3.
MISSION
Kedrion produces and distributes human plasma-derived medicinal products, which can improve people'squality of life.
It works to maintain its excellent industry standards and aspires to ongoing improvement, in order to retain its leading position in Italy and increase its share of the international market.
It works to strengthen its role as the accredited partner of the medical, scientific and institutional communities.
Its ambition is to strengthen its worldwide role as a strategic partner of the national health systems of those countries which aim at becoming self-sufficient in the availability of plasma-derived products also by means of technology transfer.
Kedrion produces wealth for its investors, for its employees, for the local community, and does it consistently with its own vision and with its values, which are responsibility, transparency, confidence in and respect for people.
INTRODUCTION
Hepatitis B is considered a serious epidemic in Vietnam. Statiscally, one of every 8 people is diagnosed Hepatitis B infection. Approximately 10 % of acute hepatitis B can lead to chronic. People carrying this inactive virus is known as pathogens , the source of transmission is through sexual contact , blood transmission, especially from mother to child. According to preliminary statistics, the percentage of Vietnamese pregnant women carrying hepatitis B is about 10-15 % of the population, and their child will be infected Hepatitis B virus with a certain rate if they do not receive a sufficient prevention method. Immuneprophylaxis is the most economical and effective treatment for the prevention of HBV.

GUEST
Professor Mario Rizzetto is currently working as the Professor of Gastroenterology of University of Torino, Italy. He used to be appointed as Visiting Scientist of Laboratory for Infectious Disease, Hepatitis Branch, National Institutes of Health, Bethesda, US; Assistant Professor of Gastroenterology, Ospedale Mauriziano Umberto I, Torino; Assistant Professor of Gastroenterology, Ospedale San Giovanni Maggiore e della Città di Torino. He has been awarded prizes and medical medals of several countries in the world (Premio Internazionale Chianciano for Research in Hepatology – Italy, Kowsar Award for Hepatology, Ismar-Boas medal of Deutsche Gesellschaft fur Verdauungs und Stoffwechselkrankheiten, EASL Recognition Award, …). Furthermore, Prof. Mario Rizzetto is a member of Editorial board of many specialized journals in the world (Journal of Hepatology, International Journal of Clinical and Laboratory Research, Liver Transplantation (US) Associate Editor, Journal of Preventive Medicine and Hygiene, …). He has had 49 publications published on various specialized journals worldwide.
Rizzetto, M.G. Canese, S. Aricò, O. Crivelli, C. Trepò, F. Bonino, G. VermeImmunofluorescence detection of a new antigen-antibody system (delta/anti-delta) associated with hepatitis B virus in liver and in serum of HBsAg carriers . Gut 18:997-1003, 1977.

F. Bonino, F. Rosina, M. Rizzetto, R. Rizzi, E. Chiaberge, R. Tardanico, F. Callea, G. Verme.Chronic hepatitis in HBsAg carriers with serum HBV-DNA and anti-HBe. Gastroenterology, 90:1268-73, 1986.

A. Marzano, M. Salizzoni, W. Debernardi-Venon, A. Smedile, A. Franchello, A. Ciancio, P. Piantino, AM. Barbui, E. David, F. Negro, M. Rizzetto. Prevention of hepatitis B virus recurrence in cirrhotic patients treated with Lamivudine before surgery and combined with passive immunoprophylaxis after liver transplantation. Journal of Hepatology 34:903-910, 2001.

Ghisetti, A. Marzano, F. Zamboni, A. Barbui, A. Franchello, S. Gaia, G. Marchiaro, M. Salizzoni, M. Rizzetto. Occult hepatitis B virus infection in HbsAg negative patients undergoing liver transplantation: clinical significanceV. Liver Transplantation; 10:356-62, 2004.

S.J. Hadziyannis, N.C. Tassopoulos, E. J. Heathcote, T.T. Chang, G. Kitis, M. Rizzetto, P. Marcellin, S.G. Lim, Z. Goodman, J. Ma, S. Arterburn, S. Xiong, G. Currie, C.L. Brosgart. Long-term therapy with adefovir dipivoxil for HBeAg-negative chronic hepatitis B. New England Journal Medicine. 2005; 352:2673-81.

T.T. Chang, R.G. Gish, S.J. Hadziyannis, J. Cianciara, M. Rizzetto, E.R. Schiff, G. Pastore, B.R. Bacon, T. Poynard, S. Joshi, K.S. Klesczewski, A. Thiry, R.E. Rose, R.J. Colonno, R.G. Hindes A dose-ranging study of the efficacy and tolerability of entecavir in Lamivudine-refractory chronic hepatitis B patients. Gastroenterology. 2005; 129:1198-209.

S.J. Hadziyannis, N.C. Tassopoulos, E.J. Heathcote, T.T. Chang, G. Kitis, M. Rizzetto, P. Marcellin, S.G. Lim, Z. Goodman, J. Ma, C.L. Brosgart, K. Borroto-Esoda, S. Arterburn, S.L. Chuck. Long-term therapy with adefovir dipivoxil for HBeAg-negative chronic hepatitis B for up to 5 years. Gastroenterology; 131:1743-1751, 2006.

Carosi G, Rizzetto M. Treatment of chronic hepatitis B: Recommendations from an Italian workshop. Dig Liver Dis. 2008; 40:603-17.

Fasano M, Lampertico P, Marzano A, Di Marco V, Anna Niro G, Brancaccio G, Marengo A, Scotto G, Rossana Brunetto M, Battista Gaeta G, Rizzetto M, Angarano G, Santantonio T. HBV DNA suppression and HBsAg clearance in HBeAg negative chronic hepatitis B patients on lamivudine therapy for over 5 years. J Hepatol., 2012 Jun; 56:1254-8.

Marengo A, Bitetto D, D'Avolio A, Ciancio A, Fabris C, Marietti M, Toniutto P, Di Perri G, Rizzetto M, Marzano A. Clinical and virologic response to entecavir in HBV related chronic hepatitis or cirrhosis: data from the clinical practice in a single centre cohort. Antivir Ther. 2013; 18: 87-94.
PROGRAM
19th March, 2014
  08:30 –   09:00Welcome guests
  09:00 –   09:10Opening Speech of the Principal of Hue University of Medical & Pharmacy
  Prof. Cao Ngoc Thanh

  09:10 –   09:20Speech of Rep. of Bivid Co. Ltd – Mr. Ngo Duc Binh
                                               Introduction about Kedrion Group – Dr. Lorenzo Martini
  09:20 –   10:05HBV EPIDEMIOLOGY AND NATURAL HISTORY and Prophylaxis of vertical
HBV transmission  – Prof. Mario Rizzetto
  10:05 –   10:30Updated information about optimal treatment of perinatal Hepatitis B
Assoc. Prof. PhD. Tran Van Huy  
  10:30 – 11:30   Hepatitis B Hyperimmunoglobulins for intramuscular administration  
   Use of Intravenous Immunoglobulins in Primary Immunodeficiencies and Kawasaki Disease
                                         Kedrigamma 50g/l Human normal immunoglobulin solution for intravenous infusion
                                          Dr. Elisabeth Clodi
11:30 –   12:00 Question & Answer
PLACE
HUE UNIVERSITY OF MEDICAL & PHARMACY 
06 Ngo Quyen, Hue city, Vietnam
Phone: (84) 54 3822 173 
Website: http://www.huemed-univ.edu.vn/  
Email: hcmp@huemed-univ.edu.vn
GALLERY
Q&A
| | |
| --- | --- |
| Q | 1) Có nên thử hết HbsAg, HbeAg, HbcAg ngay lần khám thai đầu tiên hay không hay chờ kết quả của HbsAg rồi mới thử các loại sau? |
|   | Should I take all HBsAg, HBeAg, and HbcAg tests in the first prenatal examination? Or should I wait until having result of HbsAg test before doing the others? |
| A | First take HBsAg. Test for HBeAg only if HBsAg positive |
|   |   |
| Q | 2) Mẹ có HBV có nên cho bú mẹ liền sau sanh hay đợi sau khi chủng ngừa mới được bú (bú liền sau chích ngừa hay đợi bao lâu sau chích ngừa mới được bú mẹ)? |
|   | Should infants of HBV (+) mothers be breastfed immediately after birth or only after immunization? (How long after immunization the breastfeeding is available?) |
| A | Infants of HBV + mothers can be breastfed immediately |
|   |   |
| Q | 3) Mẹ nhiễm HbsAg (+). Vậy có cần thiết cho mẹ thử HbeAg không? |
|   | Is it necessary to check regularly HBeAg for HbsAg (+) mothers? |
| A | Necessary to check in order to establish infectivity, HBeAg + mothers are at the higher risk of transmitting HBV to the offspring |
|   |   |
| Q | 4) Nếu 1 đứa trẻ đã chích ngừa đủ các mũi vaccine Viêm gan B trong chương trình tiêm chủng mở rộng, lớn lên có phải chích nhắc lại? |
|   | If one baby is fully received shots of Hepatitis B vaccine in the expanded immunization program, is the boosted dose necessary when he/she grows up? |
| A | No, there is no need of booster doses if they received vaccination at birth or as adolescents  |
|   |   |
| Q | 5)  Đối với người lớn khi đã tiêm ngừa đủ liều vaccin HBV thì lượng AntiHBs bao nhiêu là đủ bảo vệ? |
|   | For adults fully immunized of HBV, at which level is AntiHBs sufficient for protection? |
| A | If adults received HBV primary vaccination course as neonates or adolescent they do not need any booster dose; if they were vaccinates as adults, levels of anti-HBs above 10 mIU/mL are considered protective. |
|   |   |
| Q | 6)  Nếu HbsAg (+) thì phải làm HBV_DNA như vậy xét nghiệm HbeAg có cần thiết không? |
|   | For pregnant women with HbsAg (+), we would quantify the HBV_DNA level. So the checking of HBeAg is still needed?  |
| A | If quantification of HBV-DNA is available, checking for HBeAg is not necessary |
|   |   |
| Q | 7) BN đang điều trị kháng virus HBV mà có thai => có tiếp tục điều trị thuốc kháng virus hay không? Nếu điều trị có ảnh hưởng cho thai không? |
|   | If one patient being treated of antivirus drugs is pregnant, is this antivirus therapy continued or discontinued? If continue, is there any impact on the fetus? |
| A | Therapy should be continued. It seem more dangerous for the foetus to interrupt therapy, so that mothers have a flare of hepatitis which can compromise the foetus than the possible effects of therapy on foetal development. |
|   |   |
| Q | 8) Sản phụ có nồng độ virus cao HBV_DNA > 106, điều trị thuốc kháng virus, uống Tenofovir từ tuần 28  và ngưng thuốc 1 tháng sau sinh, trước khi ngưng thuốc có thử lại HBV_DNA? Nếu vẫn còn cao thì phải điều trị cho bệnh nhân? |
|   | Pregnant women having HBV_DNA over 106, being treated of Tenofovir from 28th week and discontinuing 1 month after delivery, should be done the quantified HBV_DNA before discontinuing the antivirus therapy? If it remains high, is still using of antivirus therapy?  |
| A | Treatment with Tenofovir from 28 weeks pre- to 1 month after therapy makes sense only for the highly, viremic HBsAg + mother who is healthy to prevent transmission to the newborn; measuring HBV-DNA after delivery is irrelevant. If she has liver disease she should be treated accordingly. |
|   |   |
| Q | 9) Phụ nữ 32 tuổi, khỏe mạnh, có HbsAg (+)và HbeAg trên 20 năm, AST và Alt bình thường => có nên điều trị với Interferon? |
|   | For pregnant women aged 32, healthy, having HBsAg (+) and HbeAg (+) over 20 years, AST and ALT normal, should be used Interferon therapy? |
| A | Treatment with IFN is not indicated. |
|   |   |
| Q | 10) Triệu chứng của bệnh Viêm gan B ở trẻ sơ sinh. |
|   | What are symptoms of hepatitis B on infants? |
| A | Most usually they have no symptom, they become "asymptomatic" carriers of the HBsAg; ALT/AST may remain normal for many years. |
|   |   |
| Q | 11) Có cần định lượng nồng độ HBV của người mẹ ngay lúc sinh để dựa vào nồng độ đó mà cho liều HBIG cho trẻ không? Tại sao? |
|   | Is it necessary to quantify the maternal virus load at delivery for considering the dosage HBIG for infants? Why? |
| A |  No, the dosage of HBIG is uniform. |
|   |   |
| Q | 12) Tại sao không cho chích đại trà HBIG ở trẻ sơ sinh bởi vì trẻ có thể dễ bị lây nhiễm từ các nguồn khác như: người tiếp xúc (NVYT), người trong gia đình bị lây nhiễm, dịch tiết từ người nằm lân cận…? |
|   | Why is HBIG not indicated for all newborns because of the high infected ability in Vietnam from various sources such as: medical staffs and family members who are infected, body fluid from nearby people? |
| A | The effect a shot of HBIG is transitory. There is not indication for pre-exposure prophylaxis.  |
|   |   |
| Q | 13) Mẹ đang điều trị Viêm gan B có thai có tiếp tục điều trị hay phải ngưng điều trị chờ đến 28 tuần điều trị lại? |
|   | Assuming one patient being treated of HBV is pregnant, should she continue the treatment or discontinue until the 28th week of gestation for retreatment? |
| A | She should continue, see answer 7 |
|   |   |
| Q | 14) Mẹ đang điều trị tốt, HBV_DNA < 106UI/ml. Đến 28 tuần có nên điều trị kèm hay phải thử lại HBV_DNA nếu> 106UI/ml thì mới điều trị. |
|   | Assuming one pregnant women having HBV_DNA below 106UI/ml, should she automatically be treated of antivirus drugs at 28th week of gestation? Or she has to be checked again the virus load and only be treated when the HBV_DNA is quantified over 106UI/ml? |
| A | In my opinion, said Prof. Rizzetto, she should only be treated if she has HBV-DNA above 106 UI/ml (at least 107 UI ml). Standard perinatal prophylaxis is very effective for mothers with low-intermediate HBV-DNA titers. |
|   |   |
| Q | 15) Các phụ nữ đang tiêm ngừa vaccin VGSV B theo lịch mà có thai thì có nên tiếp tục tiêm ngừa không? |
|   | For women following but not completing the HBV vaccination schedule are pregnant, would they continue this schedule or stop it immediately? |
| A | If the woman is at consistent risk f HBV infection the first two doses can be administered in pregnancy while the third one can be delyed after delivery. If there is no or low risk of  HBV exposure it is better stop the vaccination as a caution for all vaccines. |
|   |   |
| Q | 16) Sản phụ HbsAg (+), HbeAg (+), men gan tăng, đang dùng Tenofovir từ lúc tuần 20 của thai kỳ (điều trị theo BV Nhiệt Đới). Khi sanh cho con bú mẹ được không? (Bé chủng ngừa HBIG theo phác đồ) nhưng khi đó buộc mẹ ngưng thuốc, như thế có tăng lây nhiễm qua tiếp xúc không? So với mẹ tiếp tục dùng thuốc và con không bú mẹ (mẹ có điều kiện nuôi con bằng sữa công thức) |
|   | Assuming one pregnant woman having HBsAg (+), HBeAg (+), elevated liver enzymes, being treated of Tenofovir since 20th week of pregnancy, could she breastfeed? If the baby is immunised of both HBIG and HBV vaccine as schedule, mother's discontinuation of antivirus drugs could increase the infection ability through close contact for her baby? |
| A | First question: It is not known. Tenofovir has been found in blood of lactating infants at low concentration. At this time, breastfeeding is not recommended. Second question: No, if the baby was given the prophylaxis schedule |
|   |   |
| Q | 17) 2 nghiên cứu ở Ý và Bắc Kinh, thời điểm chọn lựa để chủng ngừa VGSV B (thụ động và chủ động) cho trẻ rất khác nhau. Cơ sở nào để chọn lựa thời điểm chủng ngừa này? Thuốc chủng ngừa ở những nghiên cứu này của hãng bào chế nào? Tai biến (nhẹ và nặng có thể tử vong) trong những nghiên cứu trên? |
|   | For 2 studies in Italy and Beijing, in which moment the hepatitis B immunization (passively and actively) is using for infants. What is the basis for this selection? Which manufacturers? Which complications would be found (mild and severe) in the study? |
| A | The Italian and Beijing study used the same protocols the Beijing study with an additional HBIG doses a few weeks later. HBIG should be given immediately at birth followed by the first dose of vaccine within 24 hours of life. Recombinant HBV vaccines are used in Europe. In China, local HBIG were used (Chengdu Institute of biological products Hualan Biological Engineering) and the vaccine was hansenula yeast vaccine from Dalian Hissen Bio-Pharma |
|   |   |
| Q | 18) Chỉ nên trì hoãn chích Vaccin hoặc HBIG ở những trường hợp cụ thể nào? |
|   | In which specific cases do we have to delay using of HBV vaccine and HBIG? |
| A | Never delay if the mother is HBsAg positive  |
|   |   |
| Q | 19) HBV có lây truyền qua sữa mẹ không? Có nên cho con bú mẹ có HbsAg và HbeAg (+) không sau khi đã tiêm HBIG và Vaccine. |
|   | Is hepatitis B virus transmitted through breast milk? Could infants of mothers having HbsAg (+) and HbeAg (+) be breastfed after they have been immunised by HBIG and HBV vaccines? |
| A | Breastfeeding is not a risk factor for mother to child HBV transmission under the recommended prophylaxis ( Chen X et al, PLos One, 2013; 8(1) :e55303. doi: 10.1371/journal.pone.0055303. Epub 2013 Jan 28. ) |
| Q | 20) Liều dùng HBIG và Vaccin hiệu quả nhất ở trẻ sơ sinh? |
|   | Which are the most effective dosage of HBIG and HBV vaccine for infants ? |
| A |  HBeAg: Immuno 180 IU. + Vaccine |
|   |   |
| Q | 21) Trong viêm gan B mạn tính đợt cấp ngoài việc sử dụng thuốc kháng virus tại sao không tiêm truyền ImmunoHBs? |
|   | In acute exacerbation of chronic hepatitis B, why we don't use ImmunoHBs together with the antivirus drugs? |
| A |  Anti-HBs is not efficacious and potentially dangerous (formation of immunocomplexes) if the patient is HBsAg + |
|   |   |
| Q | 22) Tiêm Vaccin VGB thì bao giờ có nồng độ kháng thể đạt được mức độ bảo vệ? |
|   | How long after being injected of HBV vaccine would be the antiHBV concentration at the protection level? |
| A | Probably for ever, certainly for many years. |
Other related
© Copyright 2017 BIVID Pharma.